When you're considering the purchase of a high-quality hot tub in Snowmass Village, CO, your best bet would be to contact the experts at Ajax Pool & Spa, so we can provide you with the very best quality and service in the area. You'll have a great variety to choose from, and you'll be sure to find exactly what you want at our shop.
Hot Tubs for Sale in Snowmass Village, Colorado
We offer the very finest hot tubs on the market, made by the industry leaders in hot tubs. Whether you're just looking for a personal hot tub, or you want a larger one to accommodate party crowds, we can provide you with exactly what you're looking for.
Jacuzzi®
Jacuzzi has been the world leader in hot tubs for more than 50 years now, and they continue to be innovative in their approach to building modern, efficient hot tubs. You can't go wrong when purchasing a Jacuzzi.
American Whirlpool
Another top name brand in the hot tub business is American Whirlpool, and you can count on receiving the finest quality every time from this manufacturer.
Common Sizes
There are some standard sizes which hot tubs typically come in, those being small, medium, and large. A small-sized hot tub can hold 2-4 people, a  medium one can accommodate 5-6 people, and a large size can hold 7 or more individuals.
Common Features & Accessories
If you're considering the purchase of some hot tub accessories, two of the most useful ones you could buy are a hot tub cover to protect it, and a hot tub surround, which is a deck that helps provide easier access and exiting.
Hot Tub Service & Repairs in Snowmass Village, Colorado
We not only sell high-quality hot tubs and whirlpools, but we service them as well. We know our products very well, and that means you can expect expert service and repair work whenever you might have need for it.
Jacuzzi® & Hot Tub Maintenance
Regular maintenance is a great idea, because it can keep your unit running efficiently for a long period of time. When all the parts are properly lubricated and maintained, you can expect longer service life, and regular hot tub maintenance will also spot issues before they become problems.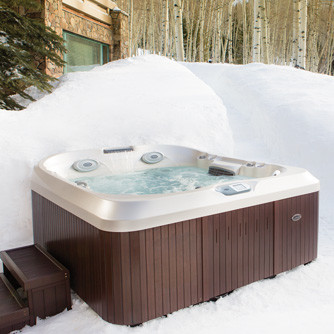 Heater Failure
When you're having problems with your heater, it could be due to clogged filters or pipes, closed valves, or a clogged pump impeller. Our specialist will quickly diagnose the problem and get your hot tub back in service.
---
Clogged Filter
Filters can become clogged by body oils and residues which enter the hot tub. Sometimes it's possible to clean the filter, and in other cases, it may have to be replaced.
---
Jets Not Working
The probable cause of your jets not working is some kind of issue with the hot tub pump. Whatever the cause, one of our specialists can pinpoint the issue and quickly get your hot tub working again.
---
Noisy Pump
If you notice a high-pitched whine from your pump, the bearings might be failing. Other loud noises may simply mean that your pump is getting old and will need to be replaced.
---
GFCI Breaker Trips
When this happens regularly, it could mean the GFCI itself is bad, or it could indicate a problem with the heater or the pumps.
---
Points of Interest & Activities in Snowmass Village, CO
Whenever you happen to be in the area around Snowmass Village, you should make a point of visiting some of the exciting attractions below.
Contact Us
Snowmass Village Hiking Trails
The AllTrails Area has 21 hiking trails of all skill levels, and you can even do some mountain biking if that's more to your liking.
Krabloonik Dogsled Rides
You'll love this unique experience which allows you to explore the Colorado back-country, in a way you've never done it before.
Anderson Ranch Arts Center
This center offers the unique opportunity to connect with various local and national artists, and to gain insights into the artistic process.
Government Trail
This is a biking trail which is well known to biking enthusiasts, and which is sure to test your skills and endurance.
Aspen Snowmass
You can book overnight lodging at this venue, and enjoy hiking, biking, and zip-lining for as long as you want to, amid the spectacular local scenery.
Snowmass Rodeo
Enjoy authentic bull-riding and team-roping events, and have your kids participate in rodeo events staged just for them.
Need a Hot Tub in Snowmass Village, CO?
If you're thinking about purchasing a hot tub in Snowmass Village, there's only one company to have at the top of your list, and that's Ajax Pool & Spa. You can expect great products, great service, and great hot tub installation.
---
Snowmass Village Hot Tub & Jacuzzi® FAQs
We are routinely asked some of the same questions, so we've included those below for you. If you have any other questions, don't hesitate to contact us, and we'll be glad to provide you with a courteous response.